Steel Mace Mastery Course
Back to search
Steel Mace Mastery Course
ACT, NSW, NT, QLD, SA, TAS, VIC, WA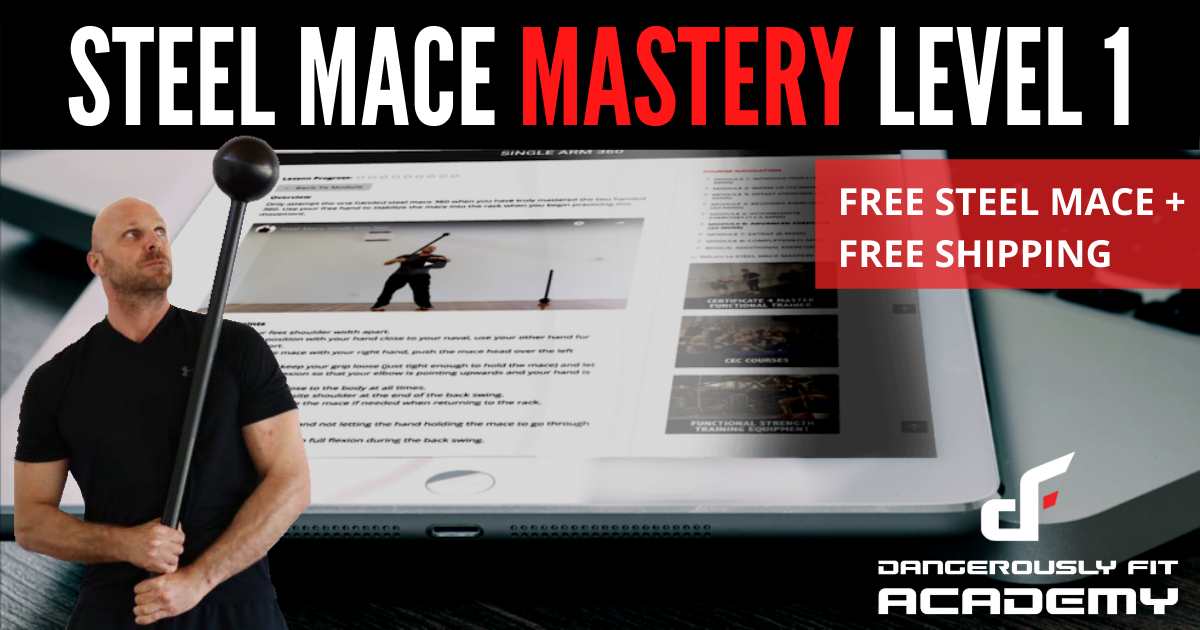 Here Are Some Of The Benefits Of Steel Mace Training;
Builds bulletproof shoulders that are both strong and mobile.
Creates grip strength like nothing else.
Rotational core strength that trains you on your feet, the way you were intended to be.
Improves cardiovascular health with workouts that challenge both energy systems, making the mace great for weight loss.
Full-body workouts that are both fun AND effective.
Increases explosive power that's excellent for athletic performance.
Builds functional strength that translates into everyday life.
What Will I Get/Learn?
You will master the fundamentals of mace training ensuring maximum results are achieved in minimal time.
You will become proficient in the 360, 10-to-2, mills, bullwhips and much more.
You will learn the progressions and regressions of each exercise so you can coach your clients safely and skillfully.
You will discover the most common mistakes learners make and the cues and drills to fix them quickly.
You will learn how to create fun, effective mace workouts that deliver results and keep your clients engaged and coming back for more.
You will get immediate access to the membership area with over 43 mace exercises and great workouts you can implement into your training business right away. No more boring workouts!
Why Should I Enrol?
Do you want to discover a huge variety of fun, new steel mace exercises that will keep your clients excited and coming back for more?
Do you want to learn new skills that will set you apart from your competition and make you the go-to functional fitness expert in your area?
Do you want to master mace training and become an expert in one of the fitness industry's newest and hottest markets?
Testimonial
"I completed Level 1 Steel Mace online and highly recommend the course. I did my PT Certs with another online provider, so I have some experience with how online courses are presented. This one is hands down the best I've ever done. It's a nice mix of a very comprehensive manual and a series of highly professional videos demonstrating technique. Importantly, Dan gets back to you very quickly if you have any enquiries and provides excellent feedback and support. 5 stars from me." Leia Prime Enso Movement
Get Started
If you want to become a certified steel mace instructor and would like more information, contact Dan on 0422 936963 or click here.
To review this course, please click here.