Steel Club Principles Level 1
Back to search
Steel Club Principles Level 1
ACT, NSW, NT, QLD, SA, TAS, VIC, WA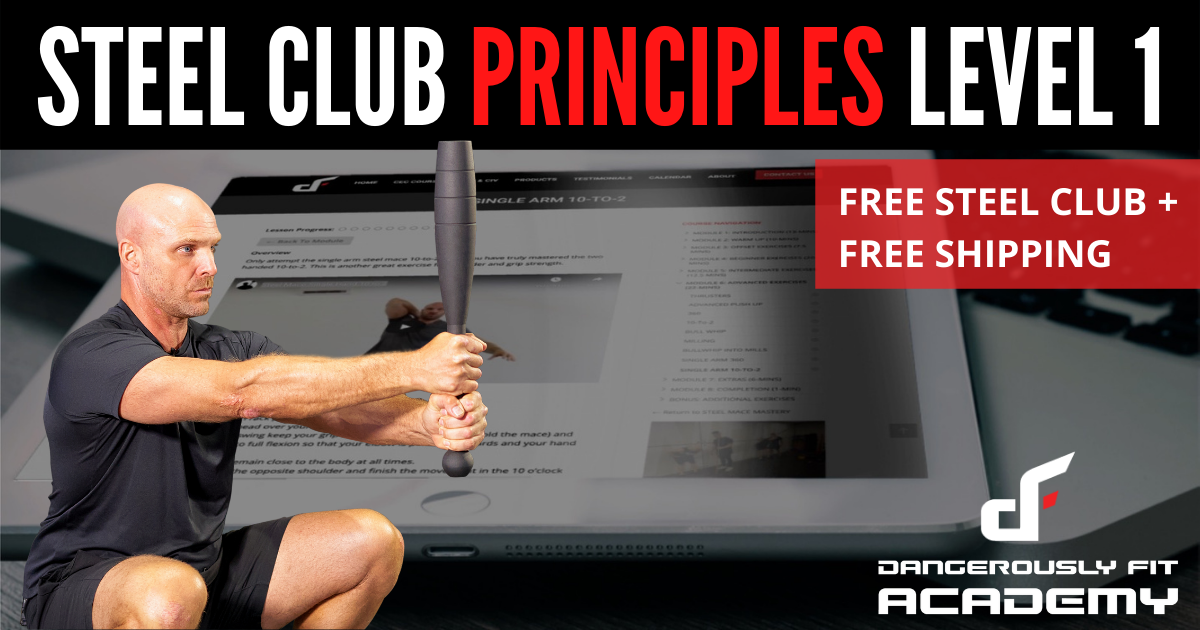 Australia's Most Comprehensive Heavy Steel Club Course
Want to bulletproof your shoulders and build a powerful grip?
Want to learn a fun new training system that your clients will love?
Want to know how to create exciting full-body flow workouts that get the gets the heart pumping without doing boring cardio?
Want to up-skill your knowledge and be the go-to fitness pro in your area?
Want to know how to train with one of the fastest-growing training tools in the fitness industry?
Want to become a Worldwide Recognised Steel Club instructor?
What Will I Get/Learn?
You will master the fundamentals of steel club training ensuring maximum results are achieved in minimal time.
You will know the correct posture, gripping and holding positions.
You will understand the optimal breathing patterns for your desired training goal.
You will become proficient in the rock-it, swings, cleans, swipes, arm casts, shoulder casts, torch press, flag press and much more!
You will learn the progressions and regressions of each exercise so you can coach your clients safely and skillfully.
You will discover the most common mistakes learners make and the cues and drills to fix them quickly.
You will learn how to create fun, effective steel club workouts that deliver results and keep your clients engaged and coming back for more.
You will get immediate access to the membership area with over 49 club exercises and 10 great club workouts you can implement into your training business right away. No more boring workouts!
Why Should I Enrol?
Do you want to discover a huge variety of fun, new steel club exercises that will keep your clients excited and coming back for more?
Do you want to learn new skills that will set you apart from your competition and make you the go-to functional fitness expert in your area?
Do you want to master steel club training and become an expert in one of the fitness industry's newest and hottest markets?
Testimonial
"Just wanted to give you some feedback on the steel clubs course. I've just finished level 1 and I'm straight into level 2. I took some clubs into work today and used them with a number of clients. They were well received, the clients loved using them – very different to traditional strength training and just a couple of 6kg clubs really tested them. I think it highlighted some deficiencies in grip strength for some of them. I've got one client who can row a 40kg dumbbell but was tested doing double shoulder casts with the 6's. Looking forward to introducing more exercises to my clients in the coming weeks. It's always pleasing to introduce something new but there are no gimmicks here, just so many benefits to gain with club training." Luke Carr
Get Started
If you want to become a certified steel club instructor and would like more information, contact Dan on 0422 936963 or click here.
To review this course, please click here.