Steel Club Supremacy Level 2
Back to search
Steel Club Supremacy Level 2
ACT, NSW, NT, QLD, SA, TAS, VIC, WA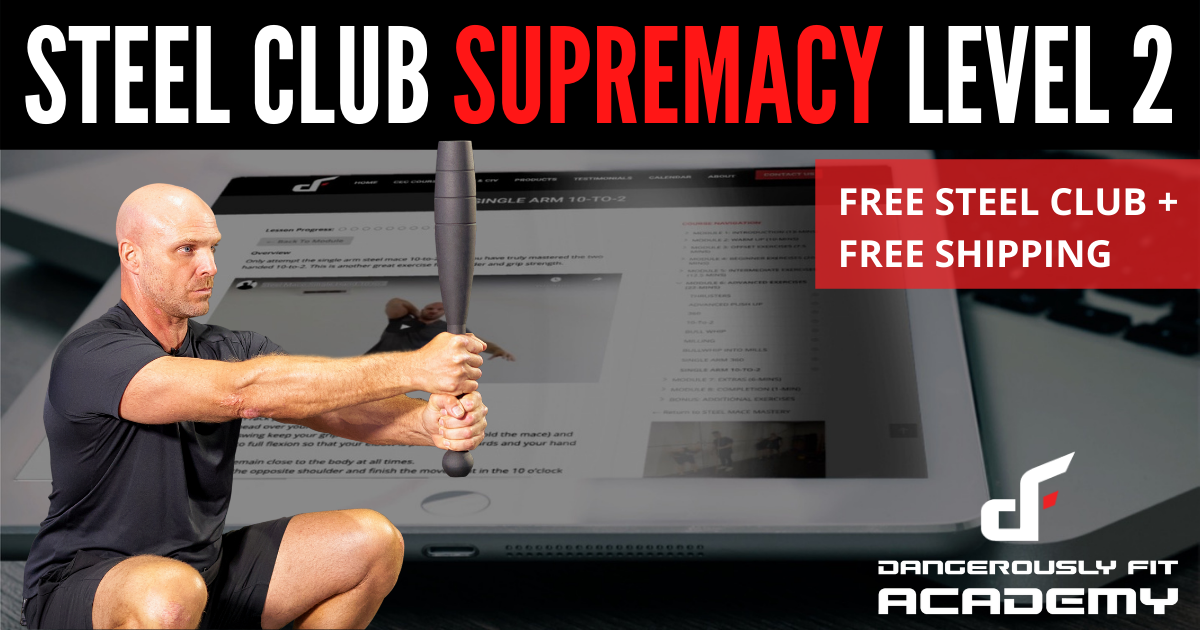 Australia's Most Comprehensive Heavy Steel Club Course
Want to bulletproof your shoulders and build a powerful grip?
Want to learn a fun new training system that your clients will love?
Want to know how to create exciting full body flow workouts that get the gets the heart pumping without doing boring cardio?
Want to up-skill your knowledge and be the go-to fitness pro in your area?
Want to know how to train with one of the fastest-growing training tools in the fitness industry?
Want to become a Worldwide Recognised Steel Club instructor?
What Will I Get/Learn?
You will master advanced steel club training movements ensuring maximum results are achieved in minimal time.
You will discover how to correctly perform advanced steel club exercises including mill variations, bullwhips, 180's, shield casts and much more!
You will learn regressions and progressions of each advanced steel club movement so you have the skills to coach your clients safely and effectively.
You will discover the most common mistakes learners make and the cues and drills to fix them quickly.
You will stand head and shoulders above your competition with a set of unique skills in one of the industry's most in-demand training methods.
You will learn complex combination lifts that will challenge you in an entirely new way.
You will learn how to create fun, effective advanced steel club workouts that deliver results and keep your clients engaged and coming back for more.
You will get immediate access to the membership area with over 31 advanced clubbell exercises, 18 combination lifts and 10 great club workouts you can implement into your training business right away. No more boring workouts!
Why Should I Enrol?
Do you want to discover a huge variety of fun, new steel club exercises that will keep your clients excited and coming back for more?
Do you want to learn new skills that will set you apart from your competition and make you the go-to functional fitness expert in your area?
Do you want to master steel club training and become an expert in one of the fitness industry's newest and hottest markets?
Testimonial
"I've started to train select clients with Clubs, and Mace work. It's so good to include these new skills in what I have to offer as a personal trainer. We're incorporating some fundamental movements into programming. The clients love it – partially because it's something different and because, well, it's also slightly dangerous. No pun intended :). In all seriousness, they can see the benefits with the challenges of offset and hip hinge type movements. I'm hoping they love it mainly because I'm so enthusiastic about the benefits I've personally experienced:
My grip strength has exponentially increased.
My mid/upper back and shoulders are stronger (which was what interested me in this type of movement in the first place)
Much more aware of activating supporting upper and lower body muscles before lifting, swinging, or moving anything unstable above my head.
I could go on further, but in summary, these courses have been invaluable – thanks again." Deborah Layton
Get Started
If you want to become a certified level 2 steel club instructor and would like more information, contact Dan on 0422 936963 or click here.
To review this course, please click here.